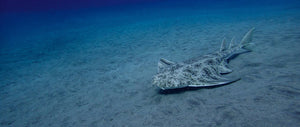 New Angelshark Action Plan
"Jaws" it ain't – the Angelshark has more in common with the skate and ray but is now an endangered species.

The squat flat shark, appropriately named Squatina squatina, once lived in abundance on sandy and muddy seabed areas on the Irish coastline but is now confined to Tralee Bay, Co Kerry.
The critically endangered species is the focus of a research appeal. 
Fiddle-fish, Banjofish and Devilfish are all names given to a species of shark native to Ireland which is now as endangered as the Giant panda or Bengal tiger.

The Angelshark once lived in abundance on sandy and muddy seabed areas on the Irish coastline but is now confined to Tralee Bay, Co Kerry, while the Canary islands are one of their last "strongholds" in Europe.

Now fishers, coastal farmers, walkers and "passionate individuals" are being asked to report new sightings or report past records of the Angelshark - also known locally as monkfish and bearing the Latin name Squatina squatina - as part of a national research project.

Marine scientists Louise Overy and Dr Kevin Flannery of Mara Beo in Dingle, Co Kerry, explain that Irish waters are "home to a vast and incredible array" of marine life, including 80 different species of the elasmobranch sub-class of fish - sharks, skates and rays.
📷Marine scientist Louise Overy who is leading the Angelshark research project
One-third are considered at risk of extinction, and the Angelshark is regarded as "critically endangered".

The Angel Shark Project: Ireland is led by the Irish Elasmobranch Group, and is being run in partnership with Natural Resources Wales, Zoological Society of London, Leibniz Institute for the Analysis of Biodiversity Change and Universidad de Las Palmas de Gran Canaria.

Inland Fisheries Ireland, University College Dublin, the Sea Fisheries Protection Authority, the National Parks and Wildlife Service, the Marine Institute and Mara Beo are also collaborating.

The project has been supported by the Shark Conservation Fund, Overy says.

Using historic records, the group hopes to identify important areas for Angelsharks across Ireland and gather vital information on their ecology and life history.

The aim is to develop an action plan which supports their recovery for future generations – a "community-led recovery", Overy says.

A website is currently being developed, www.angelsharkproject.com, and the Irish Elasmobranch Group can also be contacted on Facebook or by email at angelsharksireland@gmail.
Source: Press Release



Thank you for reading the Anglers World Angling News blog, where we bring you up to date with news and events in the angling community.

To receive a monthly newsletter with exciting angling content, promotions and deals, please subscribe on our homepage - www.anglersworld.ie
---