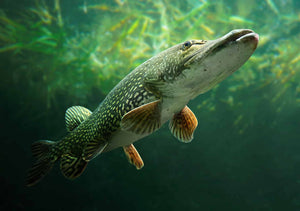 Largest Northern Pike Ever Caught in Idaho
On March 21, 2023, Hayden Lake in northern Idaho produced a new state record northern pike (Esox lucius). This monster pike weighed 40.76 pounds, and measured 49 inches long with a 26.5-inch girth!
Hayden Lake is located in Kootenai County. The lake is five miles northeast of Coeur d'Alene and about 16 miles from the Idaho/Washington border. This picturesque lake is surrounded on three sides by mountains that rise to 6,000 feet. These peaks are part of the Bitterroot Mountain Range. Much of the land is part of the 726,362-acre Coeur d'Alene National Forest.
📷 Beautiful Hayden Lake is surrounded on three sides by the Coeur d'Alene National Forest.
The 3,800-acre lake has an irregular shape, which gives it around 40 miles of shoreline. There are sandy beaches for swimming, as well as three boat ramps to access the lake.

Hayden Lake has an average depth of 100 feet, with a maximum depth of 185 feet. The exceptionally clear waters of this lake are teeming with game fish, including bass (largemouth and smallmouth), bullhead catfish, kokanee salmon, yellow perch, rainbow trout, sunfish (such as bluegill and pumpkinseed), and white crappie. But the game fish that had all of Idaho talking in March 2023 was the northern pike.
Thomas Francis was fishing for northern pike on that early spring day, just like he does virtually every day. When northern Idaho lakes thaw in the spring, Francis starts casting lines for pike and he doesn't stop until the lakes refreeze in the winter. On this particular day March day, he was targeting the northern pike of Hayden Lake.
The lake was not completely ice-free, so Francis could not cast all the way to the shore from his boat. Instead, he would drop his lure into the water right at the edge of the ice. On the cast that would end as a state record, Francis placed the lure at the ice's edge and let it sink to the bottom of the lake.
📷 A trophy northern pike.
In his remarks reported by Idaho Fish and Game (IDFG), Francis said, "As soon as my lure hit the bottom, I felt her hit. I fish with 80 pound-test line, and she almost immediately started peeling drag, a lot of it."

The experienced northern pike angler knew immediately that he had hooked into a big fish. He said, "She pinned herself to the bottom and just kept going, peeling drag the whole time. I knew that wasn't normal, and I could tell it was something special."

This fish was special, indeed. After a protracted fight with the fish hugging the bottom, the northern pike suddenly rocketed toward the surface. Francis remarked, "Suddenly I got slack line, as she was coming straight up from the bottom. She came flying out of the water, and it was obvious she was a huge fish."
When Francis finally put this mammoth fish in the boat, he immediately fired up his outboard motor and headed for the shore. He needed to find a scale that could weigh this monster northern pike.
He found a boat with a scale that would register up to 30 pounds. This fish pegged that scale, so an even bigger scale was needed.
It required a bit of a search to find a scale that could accurately weigh the fish. In the end, the weight was recorded and certified with IDFG. This northern pike weighed 40.76 pounds, landing Francis in the Idaho record book. The fish bested the previous northern pike record of 40.13 pounds. The former record pike also came from northern Idaho waters. It was caught on Lower Twin Lake in 2010.

Hayden Lake, which produced the new state record northern pike, is no stranger to huge fish. A previous northern pike record was tied by a fish caught in Hayden Lake in 2002. That pike weighed 38.56 pounds. There are certainly some monster northerns swimming in Hayden Lake!
Source: Press Release



Thank you for reading the Anglers World Angling News blog, where we bring you up to date with news and events in the angling community.

To receive a monthly newsletter with exciting angling content, promotions and deals, please subscribe on our homepage - www.anglersworld.ie
---