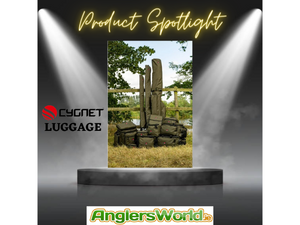 Anglers World Product Spotlight - Cygnet Fishing Luggage
Cygnet presents an extensive new range of high-quality carp fishing luggage with unbeatable value for money!
Packed with a whole host of features and built to last, each item in the range has a real feeling of quality coupled with subtle branding.
Cygnet Fishing Luggage Key Features:
Hard-wearing 600D water-resistant fabric
Heavy-duty #10 zips with soft-touch cord pullers
Nyplex reinforced base 
Pocket-friendly price point
The durable water-resistant fabric, the heavy-duty zips and the Nyplex reinforced base on each piece of luggage prevents wear and water ingress. The Cygnet range offers rock-solid reliability and performance against costly and extravagant alternatives.
You can check out the full range at Anglers World.
1. Cygnet 3 Rod Padded Sleeve - 12ft
A great way to safely transport your rods, reels and other accessories. The durable fabric provides protection for the sensitive parts of equipment during transportation while still allowing you access easily when needed!

This holdall is built to last with a reinforced base, water-resistant fabric and heavy-duty zips. It's easily transportable thanks to its removable & adjustable shoulder strap. The large outer pockets provide plenty of storage space for landing nets, weigh bags and other accessories and the internal storage can accommodate a boilie launcher or extra tackle.
2. Cygnet Brew Kit Bag
This handy brew kit bag features two compartments - one of which is insulated so it is ideal for keeping food and drinks cool and fresh. There is ample room in the larger of the two compartments to store cookware items such as your portable stove, teapot, cups, cutlery etc. 
It is made from water resistant fabric and has a reinforced Nyplex base to help keep your cookware and snacks dry.

3. Cygnet Compact Rucksack
We really like the compact size of this water-resistant rucksack and the large central compartment. The additional pockets on the front, sides and inside the lid provide plenty of storage areas for separating your gear.
The padded adjustable shoulder straps ensure this rucksack is comfortable to wear and the back cushion offers great support. This piece of fishing luggage is perfect for long treks.

This new range of Cygnet Tackle luggage raises the bar for quality at a superb price point for the angler! With its stylish design and efficient construction, it's no wonder that the range is gaining popularity among carp anglers fast.
If you are looking to update your current gear or getting fully equipped for the carp season ahead, be sure to check out this Cygnet range of luggage for sale right here, at Anglers World! We are proud to be the exclusive stockists of Cygnet Tackle products in Ireland. 
Thank you for reading the Anglers World Product Spotlight blog, where each week we shine the spotlight on a product/range that is making waves in the angling community. 
To receive a monthly newsletter with exciting angling content, promotions and deals, please subscribe on our homepage - www.anglersworld.ie 
---