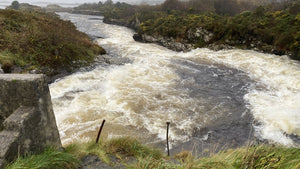 Growing opposition over proposed Galway salmon farm
There is growing opposition in Conamara to an application by the Norwegian multinational Mowi to build a large salmon farm off the Galway coast.

Interest groups say the move would be detrimental to wild fish stocks which they say are already in dramatic decline. There are calls now on the Government to tighten regulation of the industry.

Within the special area of conservation, salmon farming is already in operation at Ballinakill Bay in the Renvyle area. There is concern locally around Mowi's application, which would see the building of a 22-cage farm off Cleggan Head - producing around 3,500 tonnes of fish per year.

Angler Seamus O'Neill, who has been fishing on the Dawros River for 30 years, says wild salmon numbers have decreased significantly over the past number of decades.
Seamus O'Neill says travelling salmon are picking up sea lice through farms. Photo Credit: RTE
"I've seen a dramatic decline, similar to what other rivers around the country are experiencing. When I started fishing here 30 years ago there were up to 3,000 wild salmon who returned upstream every year, that number is now down around 900," he said.

He added: "The young salmon are leaving the river around seven or eight inches long. They leave the river for the first time to head into the bay and out into the open sea. As they're travelling through the bay they pick up the sea lice from the fish farms and it doesn't take very many lice on a fish that size to actually kill that fish.

"The sea trout are practically non-existent. The reason for that is they feed locally in the bay around the coastline where the largest concentration of sea lice is." Mr O'Neill says the issue needs to be addressed "urgently".

"The licensing system needs to be scrutinised as there are farms operating with expired licences. We're asking the Government and the minister responsible to look at each individual licence application and ask the question, why is this farm operating with no licence, and the ones that have licences need to be assessed to ensure they're complying with the habitat's directive".

He added: "Ideally the farms should be taken off the water and onto land. The technology is there to make this a viable alternative".

Inland Fisheries Ireland has said the Government is obliged by law to conserve wild salmon, and have been highly critical of the Government's current licencing policy of open cage salmon farms.

"There are changes going on in the Atlantic Ocean due to climate change. Salmon are having to travel further to access their spawning grounds, there are changes to their prey and abundance and the quality of the food they use to survive," says IFI research officer Michael Millane.

"There are issues as well along the coastal environment too regarding local and regional factors and this includes the impact of salmon farming, including Atlantic salmon".
Marie Louise Heffernan says the farm would impact a 'pristine environment'. Photo Credit: RTE
Consultant ecologist Marie Louise Heffernan says the application by Mowi Ireland to build a 200-hectare farm would have a huge impact on what she called a "pristine environment".

"The main concern I have is that our iconic species of wild salmon is under such threat in our Irish rivers. The population of native salmon is falling from 2.5 million returning every year to 250,000," she said.

She added: "Here in this area Inland Fisheries Ireland found that there were farmed salmon escaping into the Dawros River and posing a threat to our native salmon because they can interfere with the nesting places of our salmon and potentially interbreed with our precious wild populations".

"Basically we've got to change the way we manage our resources and protect our planet going forward because our biodiversity is falling at an alarming rate. That's why I believe a farm of this magnitude is something we should all have concerns about".

The Department of Agriculture, Food and the Marine has said the current regulatory system of aquaculture is fully compliant with all of the State's obligations in relation to the environment.

Meanwhile, a full round of public consultation would have to take place before any decision is taken on whether to issue a licence.
Thank you for reading the Anglers World Angling News blog, where we bring you up to date with news and events in the angling community.

To receive a monthly newsletter with exciting angling content, promotions and deals, please subscribe on our homepage - www.anglersworld.ie
---