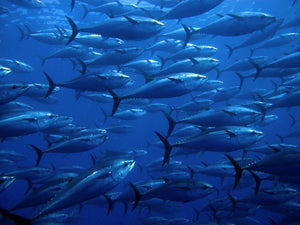 Marine Minister to Seek Bluefin Tuna Quota for Ireland
Minister for Agriculture Food and the Marine Charlie McConalogue is to seek quota for Irish fishers to catch blue fin tuna. He will make the proposal at the EU Fisheries Council next Sunday. The council sets quotas annually for fish species that are caught by EU fishers.

Negotiations between officials have been taking place for a number of weeks.
Speaking this evening at the Oireachtas Committee on Agriculture Food and the Marine, Mr McConalogue said the UK got tuna quota from the EU under the Brexit Trade and Cooperation Agreement and extra quota from the International Commission for the Conservation of Atlantic Tunas (ICCAT), the body that regulates tuna fishing and his view is there is a case for Ireland to get access to quota for a targeted fishery given the abundance of tuna in Irish waters.

He admitted however that the issue will be difficult as other member states have resisted any discussion of changes to tuna quotas but he will make a formal statement at the Fisheries Council to open the discussions.

He added the fishing industry here has been seeking a quota for many years but when tuna was first allocated for catching in the EU in the late 1990s, Ireland had no track record on catching the species and we did not receive a quota.
He said there are a number of issues of concern to Ireland going into the Fisheries Council.

Bilateral negotiations with the UK over important stocks have been ongoing but the UK wants to set quota at levels below that required by scientific advice.
He said the EU and UK remain far apart on a number of issues and it appears the UK are using time pressure leading into the council to seek concessions from the EU side.

Minister McConalogue, along with some other fisheries ministers, wrote to the Commissioner saying these tactics should be resisted and they should not be afraid of no deal with the UK. He said he is also seeking changes to provisional total allowable catches (TACs) set by the EU for different species in the event of no deal with the UK.

He said he will insist on the application of the Hague preferences which can give Ireland additional quota and that a past deal the EU did with Norway to gain access to Arctic cod was to transfer quota for blue whiting to that country.
He said that transfer was at a manageable level over the last two years and allowed some access for Norwegian vessels into Irish waters.

On mackerel, he said important negotiations on sharing the quota were ongoing this week. They involve the EU, Iceland, the UK, the Faroe Islands and Greenland. He said the last sharing agreement ended in 2020 and since then there was unilateral excessive quota setting by Norway, the Faroes and Iceland.

He said Ireland will continue to work to get an increased share of mackerel.
He said those negotiations will have to continue in the New Year as there was no progress this week.
Minister for Agriculture Food and the Marine Charlie McConalogue
The Committee was also addressed by fisheries organisations.
Sean O' Donoghue of the Killybegs Fishermen's Organisation told the members that Ireland is in a ridiculous position in that the Fisheries Council is of little use in setting the final TACs and quotas as EU-UK negotiations are ongoing.
If they cannot reach agreement the Council will have to set provisional quotas.

He said the effects of Brexit, cost of fuel and quota reductions have left fishers needing assistance. On mackerel he said it is ridiculous that countries set themselves enormous additional quotas that put the stocks in jeopardy and the Commission is unwilling to do anything such as imposing trade sanctions.

He said that if Norwegian boats are to access the Irish area there has to be a payment in blue whiting from Norway. Aodh O'Donnell of the Irish Fish Producers Organisations said Norwegians are abusing quotas for mackerel while still pressing for access to Irish waters to fish a massive quota of blue whiting worth over €100m. At the same time Irish boats will get a catch worth nine to 12 million.

He said Brexit really hit the industry here and many boats are decommissioning but there is a golden opportunity to tell Norway they cannot access Irish waters unless prepared to compensate our fishermen with quota transfer.
He said its up to us as a member state to stand up and get something reciprocal.

Norwegian boats were allowed fish Irish waters for the last two years and we set a terrible precedent if we allow them to continue for a third year. He said a level playing field is needed.

Patrick Murphy of the Irish South and West Fish Producers Organisation said with the cost of fuel the seafood sector is in dire need of assistance.
He said fishers in Europe are getting fuel subsidies but Irish boats are not, even though they had expected it. He said there needs to be a review of the Common Fisheries Policy. Without it the conversation will be about the industry shrinking and with no future in it.

John O'Sullivan also of the ISWFPO said Ireland should have asked for blue fin tuna quota back in 1997 and 1998 and the time has come to get it now as Irish waters are teeming with blue fin tuna which are fattening on Irish fish and then being caught by Japanese and Korean boats.

He said Irish boats only have 3% of one million tonnes of blue whiting.
He said Norway catches 200,000 tonnes in Irish waters and they now want access to double it.

John Lynch of the Irish South and East Fish Producers Organisation said loss of nephrops (prawns) quota of 14% in the Brexit Trade and Cooperation Agreement negotiations has not been rebalanced and its leading to vessels applying to the decommissioning scheme because of unsustainable losses.
Thank you for reading the Anglers World Angling News blog, where we bring you up to date with news and events in the angling community.

To receive a monthly newsletter with exciting angling content, promotions and deals, please subscribe on our homepage - www.anglersworld.ie
---