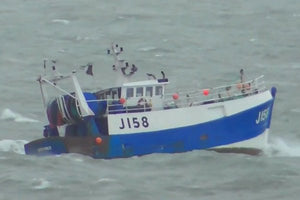 Three Jersey fishermen missing after boat sinks following freight ship collision
A search is underway for three fishermen after an 18-metre trawler was involved in a collision with a 126-metre freight ship off the coast of west Jersey at approximately 5.30am, 08/12.

Jersey-registered l'Ecume II was involved in a collision with the 11166 tonnes Commodore Goodwill in the early morning hours. It has been reported locally that debris from the fishing boat is in the sea where the vessel is believed to have sunk.

A number of local and French fishing boats have joined in the search mission. Rescue boats, including the RNLI's St Helier all-weather and inshore lifeboats, who received a call at 5.43am, as well as the Guernsey lifeboat, are involved in the rescue operation.
A spokesperson for Ports of Jersey told local newspaper The Jersey Evening Post:
"A major search and rescue operation is under way in St Ouen's Bay following a collision at sea. We will provide more details when we can."
Don Thompson, head of the Jersey Fishermen's Association said that the wreck of the l'Ecume II had been located on the seabed in up to 50 metres of water.
A sonar image showing the wreck of the trawler on the seabed
Jersey Coastguard said: "Jersey Coastguard is continuing to coordinate a major search and rescue operation, after the Commodore Goodwill collided with a Jersey fishing boat just after 5.30am this morning. There were three people on board the fishing vessel: the captain and two crew members."

"Coastguards have deployed the RNLI's inshore and all-weather lifeboats, two French rescue helicopters, Guernsey's RNLI all-weather lifeboat and a French naval fixed-wing aircraft. Also involved in the search are Channel Island Air Search, Ports of Jersey's pilot boat, and the Government of Jersey's Fisheries rib.

A large number of local fishing vessels have also been helping with the search, as well as drones, beach lifeguards on jet-skis, and honorary police officers.
The vessel is believed to have sunk in approximately 40 metres of water, which requires specialist diving resource.
Anyone who finds debris on beaches is being asked to note where it was found and call the Coastguard on 01534 447705.
Thank you for reading the Anglers World Angling News blog, where we bring you up to date with news and events in the angling community.

To receive a monthly newsletter with exciting angling content, promotions and deals, please subscribe on our homepage - www.anglersworld.ie
---