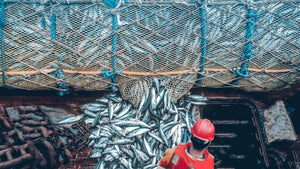 PROPOSED CATCH LIMITS IN EU WATERS FOR 2023
On October 28th, the European Commission published its proposal for catch limits for fish stocks in the EU waters of the Atlantic Ocean, Kattegat and Skagerrak for 2023, including deep-sea stock for 2023 and 2024.
The proposal concerns 17 total allowable catches (TACs) for the fisheries operating on stocks managed solely by the EU. Recovery of the largest stocks, notably the horse mackerel, allows the Commission to propose a quota increase. 

Virginijus Sinkevičius, Commissioner for the Environment, Oceans and Fisheries, said: "Our proposal for increased catches of Atlantic stocks managed by the EU is good news for our fishers and it comes at the right moment given the dire economic situation they are facing, with rising fuel prices and the impact on the profitability of the sector. The proposal shows that science-based fisheries management pays off. However, I am very concerned about the state of the European eel. We must be decisive in reinforcing the measures at sea and I call on the Member States to act without delay on the other pressures on this stock."
The proposal is based on scientific advice from the International Council for the Exploration of the Sea (ICES):
For 8 out 17 stocks, the advice allows the Commission to propose catch limits in line with the objective of sustainable management of fish stocks (maximum sustainable yield, or MSY), with an increase in catch limits for six of these eight stocks.
For the other nine stocks, scientific data was not sufficient. As a result, the proposal is based on the precautionary approach. For all of these stocks, a roll-over or decrease in catch limits is proposed.
The European Commission further proposes to reinforce the existing measures for the protection of eels in all relevant EU waters, specifically in the Atlantic, the Baltic Sea and the Mediterranean in order to help the stock recover.
ICES reiterated that the status of the stock remains critical. ICES also advised that there should be zero catches of eel in all habitats and at all life stages. In addition, ICES advises that non-fisheries impacts, such as habitat destruction and loss, migration barriers (hydropower, pumping stations) and pollution, should be minimised and, where possible, eliminated.
Next Steps... EU fisheries ministers are expected to adopt the EU fishing opportunities in the Atlantic and other areas for the year 2023, and in some cases for 2024, at the Council meeting on 12-13 December 2022.
Sustainable fishing has made substantial progress in the EU. In 2022, 80% of the TACs were set at maximum sustainable yield (MSY) level, allowing for a healthy future for the stocks and fishers that rely on them, compared to only 14% of TACs in 2009.
Source: Press Release  
Thank you for reading the Anglers World Angling News blog, where we bring you up to date with news and events in the angling community.

To receive a monthly newsletter with exciting angling content, promotions and deals, please subscribe on our homepage - www.anglersworld.ie
---