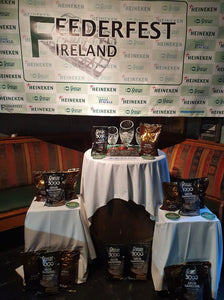 THE DUTCH CLEAN UP AT FEEDERFEST 2022!
A legion of 74 anglers arrived to Inniscarra, County Cork last month for the latest edition of Feederfest Ireland that saw contestants from The Netherlands, Sweden and England compete alongside expert feeder anglers from across the island.
It was a difficult competition this year with heavy rainfall that resulted in the water levels rising 4 ft by the end of it but the anglers enjoyed varied catches of bream, skimmers, hybrids and roach mostly.
The Dutch took all the podium places with an incredible 1st, 2nd and 3rd. Two members of Ireland's feeder team placed in the top 8.
Congratulations to the winner Willem vd Helm who took first place with an impressive 59.230kg.
1 Willem vd Helm, Netherlands 59.230kg
2 Henk Roskam, Netherlands 52.500kg
3 Aart Multem, Netherlands 52.450kg
4 Rod Scott, England 51.500kg
5 Willem Multem, Netherlands 47.300kg
6 Tony Hopkins, Ireland 46.700kg
7 Paul Boothby, England 46.680kg
8 Rimantas Kondrackas, Ireland 46.430kg
Organised by Inniscarra Lake Tourism Ltd, the event featured sponsorship from Heineken, O'Riordans Bar, Coachford and O'Callaghans Bar & Guest House contributing to the prize fund supplemented by boxes of groundbait from Sensas Ireland.
Source: Inniscarra Lake TDL
FISHING ON INNISCARRA
A long standing favourite with the anglers, Inniscarra Lake is now a world class angling venue. The reservoir has bream ranging from 1kg+, skimmers, hybrids, roach and rudd as well as other species such as tench, carp, perch, brown trout and gudgeon.
This lake is now famous for the championship match stretch, and bookings for Feederfest 2023 are already underway, so if you are interested, book early to avoid disappointment. For details of future events, visit www.ncffi.ie/inniscarra-angling. 
Thank you for reading the Anglers World Angling News blog, where we bring you up to date with news and events in the angling community.

To receive a monthly newsletter with exciting angling content, promotions and deals, please subscribe on our homepage - www.anglersworld.ie
---