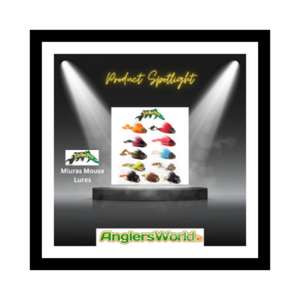 Anglers World Product Spotlight - Strike Pro Miuras Mouse
The Strike Pro Miuras Mouse is the unsung hero of pike lures! Miuras Mouse was designed by an Italian lure builder named Maurizio Carini and it's been on the market for several years with an extreme amount of big pike on its record.

Brought to fame by Strike Pro staff, Pierre Monjarret in the final day of YouTube series PikeFight, Pierre secured victory for CWC by landing a behemoth 30lb plus pike on the Miuras Mouse! Since then, this lure has been taming large pike all over Europe and recently fooled a 45lb UK specimen.
Pierre Monjarret catching a monster pike in 2021 on Miuras Mouse Derg Whisper. Photo Credit: CWC UK


So what makes the lure so special? 
Miuras Mouse moves a lot of water thanks to its flat nose to the front and deer hair mane. This mane pulsates whilst being worked in a jerking of jigging style manner. This in itself creates a large profiled bait that can be easily spotted in clear or murky water conditions.

The soft plastic twin tail provides additional movement and vibration and with the narrower tail design, provides the bait with an exceptional hook up ratio. The blend of bucktail and a plastic tail provide a swimming action during retrieve that is an almost irresistible target for a hungry pike.
The deer hair sculpin design and soft plastic twin tail design combined makes the Miuras Mouse a very versatile hybrid tail bait. You can fish the Miuras Mouse extremely slow and maintain exceptional control even during windy conditions and fast drift fishing with the boat.

The slow sinking bait can be worked on a straight retrieve, jigged or jerked and is ideal for working over shallow water and providing great hang time in deeper water. The mouse can also be worked over deeper water by attaching a Tungsten fastach weight to the hook tie, increasing the sink rate.
Pro tip: The replaceable twin tail can be swapped out for a pig shad, simply by cutting the head off a pig shad will allow you to create a different action on a very successful pike catching lure.
The mouse is double-treated to ensure its durability. The tail is attached with a BFT screw, which allows you to replace it quickly. It is 23cm in length and weighs just 95g - lightweight but dangerous!
There are many different colours & styles to choose from. 
See our full range here.



If you're looking to catch monster pike, the Miuras Mouse from Strike Pro is a must have lure in your tackle box.
Thank you for reading the Anglers World Product Spotlight blog, where each week we shine the spotlight on a product/range that is making waves in the angling community.

To receive a monthly newsletter with exciting angling content, promotions and deals, please subscribe on our homepage - www.anglersworld.ie 
---