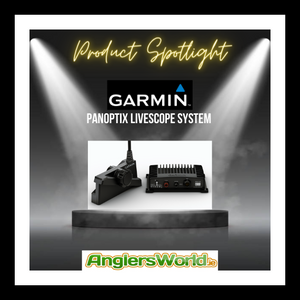 Anglers World Product Spotlight - Garmin Panoptix Live Scope System
Garmin LiveScope provides some of the finest live sonar imaging in world, and is a game changer for any angler who takes advantage of it.
Image Definition like you've Never Seen....
The latest in LiveScope technology, the LiveScope Plus System offers improved resolution, reduced noise, clearer images and better target separation.
See images clearly with improved screen clarity, transducer sensitivity and target separation.
Scan surroundings with sharper images, reduced noise and fewer sonar artifacts.
Upgrade current LiveScope System black box (GLS™ 10 sonar module) with just a new transducer.
Get maximum contrast and clarity in sonar images with vivid colour palettes.
Don't miss a thing with supported Forward, Down and Perspective modes and necessary mount.
Real-Time Images: Real-time sonar ensures that live images are as accurate as possible.
Clear Vision: See exactly what is needed with reduced noise and fewer sonar artifacts that impede the picture of fish and structure.
Image Stabilisation: A built-in stabilisation system keeps the sonar image on the compatible chart plotter steady, even in rough conditions.
Vivid Colour Palettes: Choose from seven vivid colour options  - including Aqua, Caribbean, Lava and more - to see fish and structure in maximum contrast and clarity.
Select a Live Scope mode to fit the environment
Forward Mode: Scout ahead of the boat to see what's happening in real time.
Down Mode: Explore live views of the activity directly beneath the boat.
Perspective Mode: See under the water with a view from the perspective above the water.
Choosing the right Garmin unit to work with LiveScope
In order to run Garmin LiveScope on your boat, you need two main components: a LiveScope transducer, and a compatible head unit that can display the sonar data produced by the transducer.
In general, it's best to choose a head unit with the biggest display possible, since that gives you a better view of the amazingly detailed sonar data produced by LiveScope.
One thing to keep in mind is that the head unit does not need to come with its own transducer, as you just need it to plug in the black box of the LiveScope system, in order to view the sonar signals.
This means you can opt for a pure chart plotter unit that doesn't have any sonar capabilities, which helps to reduce the cost. 
Alternatively, you can also opt for a sonar capable chartplotter, but purchase it without a transducer, which also helps to reduce the cost.
LiveScope is compatible with the Garmin Echomap UHD series.
The Panoptix LiveScope Plus System and the ECHOMAP UHD 75cv model is available to buy now at Anglers World.
Thank you for reading the Anglers World Product Spotlight blog, where each week we shine the spotlight on a product/range that is making waves in the angling community.

To receive a monthly newsletter with exciting angling content, promotions and deals, please subscribe on our homepage - www.anglersworld.ie 
---